Desk Pads and Desk Mats
You may think your office is a stylist's dream… But there's a good chance you're missing a vital component of a functional and comfortable desk space.
---
First: The Problem with NOT using a Desk Pad
Writing on a naked desk, one without a protective pad or mat, is risky. A simple slip of the hand and whoops! You leave a permanent mark—a stain that lasts a lifetime.
"That won't happen to me," you say, "I'm careful."
But guess what?
That's what they all say! Be smart and protect your beautiful, beloved desk with a 'desk mat' or 'desk pad' today!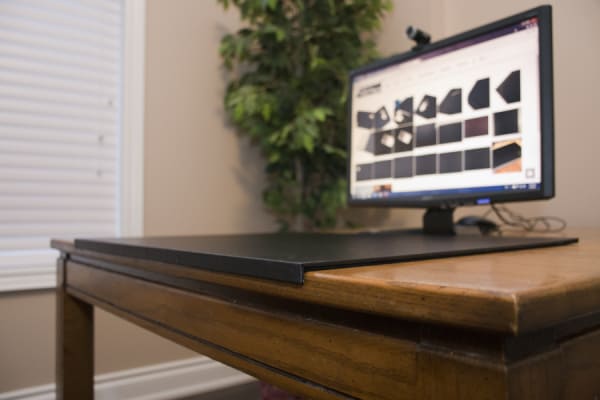 Why Use a Desk Pad?
There are many reasons you should use a desk pad or mat, here are just a few to get you started:
1) Desk Protection
Whether your desk is expensive or not, you still want it to look as good as possible.
Scratches, heat spots from your coffee or a laptop, and stains can ruin your desks appearance. Desk pads and mats most important function is preventing such damage. Also, having a mat or pad on your desk can give you peace of mind if, for example, you allow your coworkers or kids to use your desk.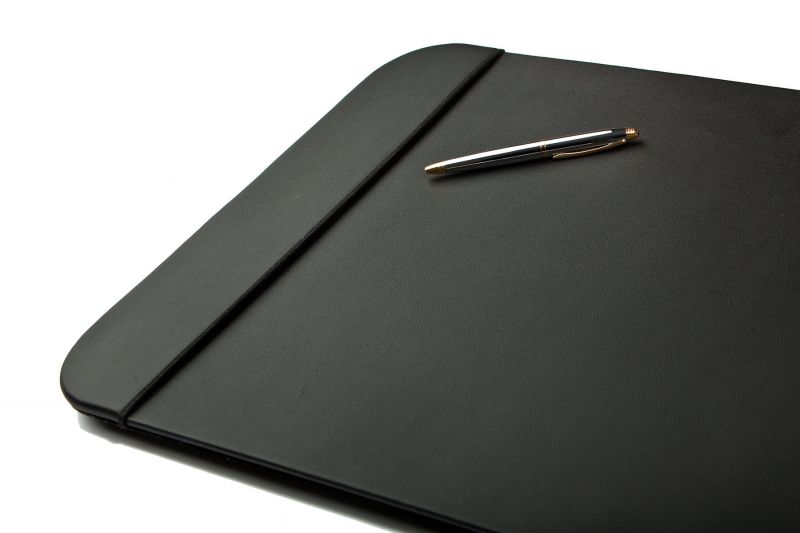 ---
2) Versatility
There is a perfect pad for every desk.
If you have a unique desk or one that you think would be ruined (in appearance) by the addition of a desk mat or pad, trust us, there are probably many options out there that you are unaware of.
3) Aesthetics
If you already have a beautiful desk, you may think it can't get any better. But just like a nice suit that can be improved with a particular tie or a house with a new, complementary door, a desk's appearance can be improved, and made more unique, with the addition of a desk pad or mat.
---
4) Comfort and Productivity
Aside from protecting your desk and improving its appearance, desk pads also have pragmatic benefits and they can dramatically improve your work flow.
Desks mats and pads can help your papers from slipping, they can help keep your arms and wrists comfortable, and they can help you keep everything nice and organized. Keeping an organized work-space is critical, especially if you are a motived person striving to be as productive as possible.
---
Types of Desk Pads
When choosing a desk pad, you want to balance function with style. Here are some of the most popular types of desk pads.
Standard Type Desk Mat or Pad
There are many choices when it comes to desk pads and mats, but the most common is a standard, usually black, pad with an anti-slip bottom that is usually in the shape of a rectangle.
The best desk pads will have a non-glare surface, like ones with a dull matte finish so that light will not be reflected from desk lamps or other lights which can be incredibly distracting and annoying when trying to work.
They will also self-heal so that there are no writing imprints or nicks left on the pad after using it. Another feature of many of the better brands which has become quite popular is the use of antimicrobial properties such as Microbran which will protect your desk pad from bacteria, mold, and mildew which in turn prevents odors, deterioration, staining, and keeps it cleaner.
Synthetic or faux- leather desk pad can be an upscale looking choice that is cheaper than real leather and easier to clean.
---
Clear Desk Mat or Pad
Clear desk mats or pads offer a slim and discrete alternative to the usually bulkier standard options. Clear desk pads are great if you have a really expensive or beautiful desk which you do not want to obscure with a pad, and they are also great if you have pictures of friends or family that you would like to put underneath. Forget about using prime desk-space for picture frames, you can include pictures of your loved ones right below your hands!
One thing to keep in mind with clear desk pads is that, when you are buying one, you want to make sure it says something like "crystal clear," or "completely see through," because some pads may seem to be transparent when they are in the store but then turn out to be slightly opaque when you get them back to your desk.
---
Leather Desk Mat or Pad
Leather desk mats or pads are top-quality items that usually complement large, wooden desks. Some people prefer to match the color of their desk with the color of their mat, while others like the contrast of having a brown-wooden desk with a black leather pad or a black-wooden desk with a brown-wooden pad.
Leather desk mats and pads should have a non-slip back to keep them from moving around and they should provide some cushion for your arms and hands to make writing and typing easier for you.
Leather mats and pads are an elegant solution that can either compliment already-valuable desks or kick inexpensive desks up to the next level. One of the problems with leather pads is that they are not typically very water or stain resistant.
But, remember, if you stain your leather desk pad, it's not the end of the world, you can always get another one, and you can do it far easier, and for far cheaper than you could replace the actual desk itself.
Curved Desk Mat or Pad
Curved desk mats and pads are usually made with a pencil ledge and they can really add a unique sense of style to an otherwise minimalist-type desk. While you have to choose the shape that suits you best, a curved mat or pad is definitely something you should consider when deciding to protect your desk.
Custom Desk Mat or Pad
There are a number of options if you are looking to create your own custom desk mat or pad. You can, for example, have a picture of your family printed on the mat. You can do a movie poster, a favorite cartoon, or even a comic book or superhero.
Desk mats are the new school lunch boxes, they are a unique and fun way to show off some of your interests and your unique sense of style.
Find and customize the perfect desk pad for your office at The Pad Place