A Construction Site Has a Lot of Problems. Washrooms Shouldn't be one of them.
For much of the time that I can remember, whenever my family would drive by a construction site, either commercial development, or custom homes, one thing was always constant:
The presence of a porta potty or two.
Porta Potty's, or more accurately called portable toilets can be an incredible convenience to workers and crew on site at any type of building or construction site. Since usually, the place where they are working lacks the general infrastructure needed for modern necessities like plumbing…
A portable toilet becomes a welcome expense to the project at hand. Be it construction in Woodstock, St. Thomas, Simcoe, or anywhere else in Southern Ontario.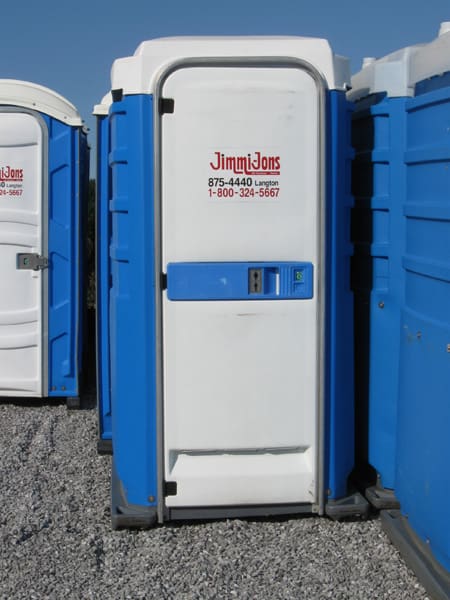 Proper Site Placement of your On Site Portable Toilet in Woodstock, Ontario
It's not the most glamours topic to discuss, but you're going to have to have a game plan for where to place your rental washroom on your job site.
On most  job sites in Woodstock, you're going to be dealing with rugged terrain. Generally you'll have bulldozer tracks in the dirt, as the excavate and reshape the land. This will make it more difficult to find level ground of sufficient square footage to place your rental toilet unit.
How Most Porta Potty's Measure Up
The base of a standard Jimmi Jons portable toilet is essentially a four foot by four foot square. That means you'll need a solid 16 square feet per toilet unit that you need to rent.
What if You Need Multiple Rental Toilet Units?
When your workforce or construction crew reaches a certain size, it may be beneficial to consider multiple rental washrooms. The general rule of thumb, for a typical Woodstock work site is:
For every 10 workers – You need another porta Jon (another snazzy nickname for construction site toilets).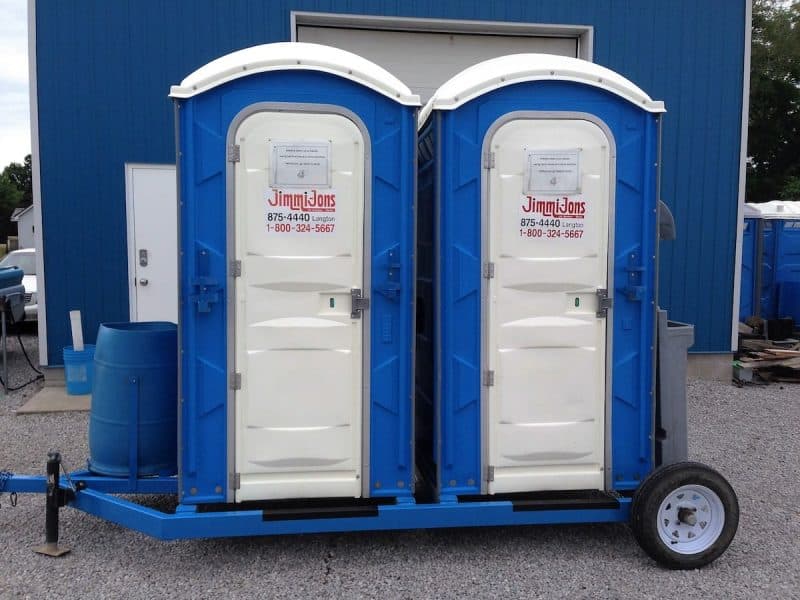 Having a larger workforce leads to the inevitable alignment of bowel cycles. It's a real thing. This means that having multiple units will assure that there's no wasted time on the site due to waiting.
I've seen it many times where a smaller crew can have a coincidental need for toilets at the same time. Even if they sit ideal for several hours, this temporary overlapping of individual 'urges' and not being properly prepared can cost hundreds of hours over the course of a year.
Local Companies to Recommend Using for Rentals
We as citizens of Southern Ontario are now lucky to have the luxury of choice when it comes to our rental options. But for what my home improvement company has had the pleasure of dealing with over the years, there's ultimately only one SERVICE that shines above the rest.
You might ask yourself how can a company in this particular industry truly shine. The answer is simple, and if you read on, it will become clear:
Service is So Important for Anyone Serving our Industry
When you are dealing with workers, contractors, and builders in general, it takes a certain mentality, attention to detail, and a no-BS way of going about your business.
While some companies focus on platitudes and fancy language – What we really want are clean and usable portable bathrooms for the construction industry that are clean and maintained and ready to go whenever we need them. That's what we get with Jimmi Jons, out of Langton, Ontario.
We've considered the alternatives like Affordable Portables, and Red Star. But after multiple rental scenarios where Jimmi Jons came to our rescue very quickly, it became a closed book affair.
The Convenience of Portable Toilet Rentals in Woodstock, On for the Construction Business
As I mentioned above, service is a primary factor in how we choose the companies we allow on site with us as we help build this city. Though it's not the only factor… You've got to examine them like you would any sub contractor:
Quality of service
Speed of communication
Pricing rigidity or flexibility (situational dependent)
Positivity and optimism
Team building (it matters)
When you talk with someone in a capacity to help in your project on any level, you get a vibe from the person on the other side that leads you to believe one of two things:
They are either here to help you, or here to help themselves.
You could argue that every business is here to help themselves. That's obvious, and not exactly what I'm referring to. It's more about the vibe a company gives you about what they will do to assure that you're taken care of so that:
THE PROBLEM YOU'RE SOLVING IS NOW – NOT A PROBLEM.

For now, that's about enough. You now know who to call if you're looking for portable toilet rentals in Woodstock or the rest of Southern Ontario. So, as a fellow handyman or home improvement type of character you are, check them out.